Chemical Magnetic Pumps with PTFE/PFA lining
ATEX- and FDA compliant
Energy-efficient pumps and chemical pumps
Sustainable environmental protection!
The GEKO-Pumpen GmbH contributes by development und manufacturing of their pumps for an active and sustainable environmental protection.
To counter the increasing energy needs, our engineers have systematically improved the pumps to the required energy savings. With the following activities, the efficiency of the pumps was improved compared to convential lined pumps on the market:
 Use of non-metallic isolation shells made of carbon-fibre (without eddy-current losses)  Use of impellers with optimised shovels  Use of optimised bearing materials
Quality is our maxim
Selected suppliers as well as trained personnel are the basis for our estimated product quality. Together with the industry-wide shortest delivery times our company is well prepared for the future jobs.
Innovative products and our fast customer service push on our expansion.
GEKONORM NM Standard chemical pumps with magnetic drive
The NM series
Magnetic driven centrifugal pumps of the NM series are chemical centrifugal pumps with PTFE/PFA lining. Their dimensions and nominal duty points are according to the DIN EN 22858 standard. They are available as either NM pumps in pull-out design with bare-shaft ends or as BM pumps in close coupled design with flangemounted drive motor. The pumps are resistant to almost all kinds of fluids, and will be only in contact with PTFE/PFA, oxide ceramic, zirconium oxide or silicon carbide.
Design
NM pumps are magnetic driven single-stage pumps with an annular-casing without sealing. The isolation-shell hermetically closes the pump which is absolutely leak-proof. This isolation-shell is either made of carbon-fibre composite material and lined with PTFE or made of zirconium oxide. The closed impeller made of PTFE is mounted to a hollow ceramic shaft with double sleeve bearings made of silicon carbide. Due to this hollow shaft, the sleeve bearings are always impeccably lubricated and cooled, even under difficult operating conditions. So the pump is less sensitive to incomplete lubrication and/or dry running.
Magnetic power transmission
The permanent-magnetic transmission system consists of a PTFE coated inner magnet and a flywheel-mass with outer magnets. The permanent magnets are made of cobalt and samarium. An isolation-shell with PTFE lining or made of zirconium oxide hermetically closes the pump which is absolutely leak-proof.
Fields of application
As they are absolutely leak-proof, NM pumps are always used to deliver highly aggressive or dangerous liquids. Thus, users in all fields of the chemical and pharmaceutical industries have relied on our pumps for long. The standard chemical pumps are available either in pull-out design or in compact monobloc design with flange-mounted motor.
With its solid and intelligent design, the magnetic driven standard chemical pump of the GEKONORM NM series is perfectly suited for continuously reliable use in the chemical and pharmaceutical industrie

Technical data
Pump casing made of GGG-40.3 lined with 4 mm thick PFA. Axial suction flange. Discharge flange mounted radially upwards. Flange connections acc. to DIN 2501/1 standard. 
All sizes are designated acc. to DIN EN ISO 2858 standard 
Minimum flow rate is 0,5 m3/h  Internal pressure: overpressure of 16 bars at 150 °C 
Maximum operating temperature is 150 °C (higher temperatures available upon request) 
Closed or open impeller made of PTFE with curved blades 
Isolation-shell made of carbon-fibre composite material and lined with PTFE or made of zirconium oxide  
Slide bearings made of pure silicon carbide  Our standard drive system is an explosionproof three-phase motor acc. to EEx e II T3 (Atex)
The advantages
Bored ceramic shaft for internal split-stream circulation      
Less sensitive to incomplete lubrication      
Impellers with curved blades for more efficiency      
No eddy-current losses due to metal-free isolation-shell      
PTFE parts free of metallic framework      
Silicon-carbide pressure bearings of optimal dimensions take the axial thrust
Special versions are also available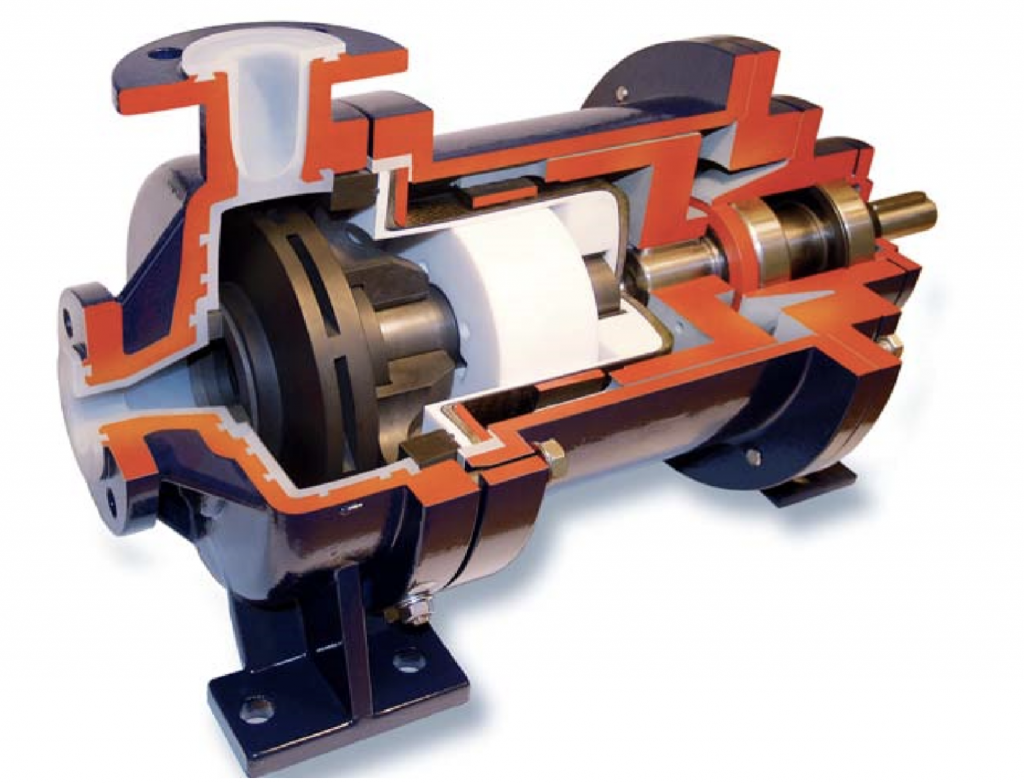 GEKONORM NM pumps are of strong design.